Based in Cheltenham, Claire Baker is an imaginative and enthusiastic garden designer with an instinct for combining shapes, colours and textures to create harmony and contrast in the garden.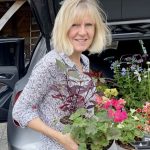 I believe a garden should surprise, inspire and delight – and be a refuge for reflection, relaxation and escape from the outside world.  Also, that successful garden design is about more than simply ticking all the boxes for how the client wishes to use their garden in the immediate future.
For me it's about realising the full potential of the space but getting the basics right whilst I'm fizzing with creative ideas!  Things like ensuring the garden makes sense with the house and its overall setting; allowing for how the light will change throughout the day; considering focal points, sight lines and rhythm as you walk around and the views from where you will sit; using materials that harmonise with the building, and specifying plants suited to the soil and location (and the time available to tend them!) – to name a few.
I'm just as happy to create a simple planting scheme as I am to revamp a dejected corner or design a totally new garden. So, whether you just need a few ideas to take forward in your own time or a fully project-managed garden makeover, do get in touch to discuss your plans and thoughts.