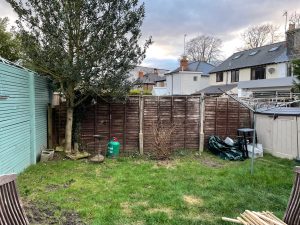 This was a sad space when I first saw it, but it had great potential – although compact, it was a good square shape and full of light.  The brief was to make it part of the house, so that my clients could step out at the same level into the sunshine, with places to lounge and sit, barbecue, eat, entertain and relax around their fire pit in the evenings.  Colour and a lush tropical feel to the planting were also on the wish list, but this had to be out of reach of their two boistrous labradors! Most important was that the garden should feel special and be full of memories of the client's late mother, who was a keen and accomplished gardener.
First we needed to sort practicalities such as essential storage (for bikes, tools, recycling bins, etc).  This was all moved to the long, wide passageway which runs from the front drive to the garden, freeing up space for a generous open plan 'room' at the end.  The client was enthusiastic about colour and texture, so we had fun using different surfaces to create areas which felt separate but worked together as a whole. The one feature we retained was a handsome mature holly.
Warm earthy browns and greys were used for the deck, porcelain tiled dining area and a cobbled 'niche' for a bistro table and chairs.  The oak raised beds around the central fire bit and barbecue area are at 'perching' height, perfect for entertaining. Two stone chimney pots from the old family home now sit on either side of the cobbled area, planted up with erigeron; a beloved mirror hangs in the dining area, and the wrought iron gate from the passageway has been repurposed as a trellis for a passion flower. Full of bold, colourful, structural plants, it's now a totally bespoke garden with interest and special meaning for its owners.
"We're so glad you enjoyed our project.  We've spent almost every moment, when it's not raining, in our garden and already feel it's added such a joyful quality to our lives. Thank you for your creativity and your empathy as you knew the garden was not only about having a wonderful space but also as a tribute to my Mum and to have some of her belongings there, means so much to me".  Louise and Andy