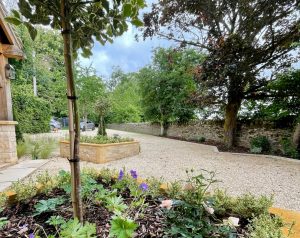 Surrounded by fields in a rural Cirencester setting, the brief for this project in 2021 was to re-orientate the approach to the house which had undergone major extension and remodelling, and which sits at the end of a long driveway.
Blending formal with informal elements, the design defines the route to the new porch so one arrives facing the front door and not from the side.  In addition to the supply headaches for plants and materials created by the Covid pandemic, there were various issues to overcome including the lack of distance to the boundary wall opposite the house, a network of services criss-crossing underground and the area faces north!
Two large raised stone parterres now stand either side of the front porch, planted with 'Joie de Vivre' roses, geranium himalayense 'Gravetye', standard ilex aquifolium argentea marginata and variegated buxus sempervirens elegantissima.  Sweeping around towards the parterres are swathes of grasses such as nassella tenuissima and pennisetum alopecuroides and ribbons of perennials including salvia sylvestris 'Mainacht', veronicastrum virginicum alba, echinops bannaticus and agapanthus.  This less formal planting is punctuated by three clipped cones of yew (taxus) for height and interest.
A new shrub border was created opposite the front door containing a variety of flowering evergreen shrubs for the owners (and pollinators!) to enjoy throughout the year.